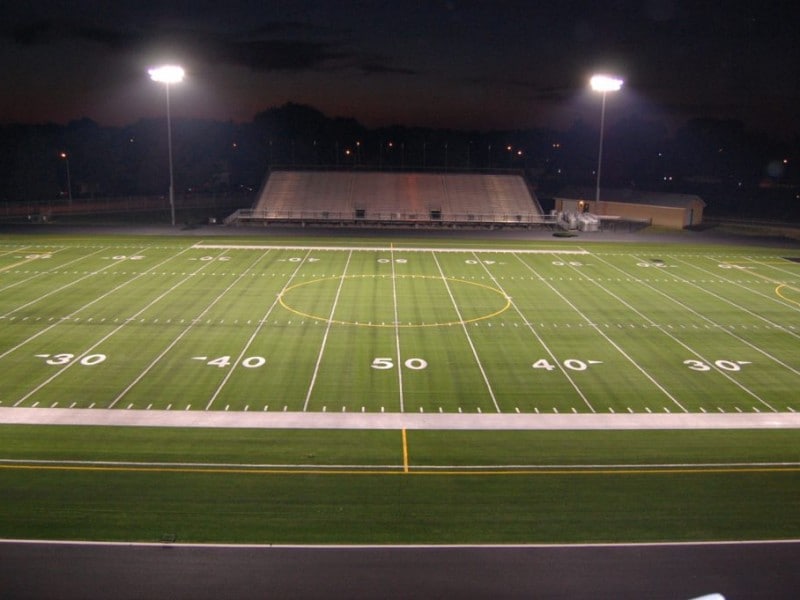 Napleton family members Kathy Napleton, Kristen Napleton Hrones, Brian Napleton, Eddie Napleton and Colleen Napleton were presented with a framed print of Oak Lawn Community High School and a piece of the FieldTurf from the renovated athletic field named for Ed Napleton. | Supplied Photo

Oak Lawn dedicates field to Edward Napleton
In a true display of gratitude for a generous donation to the school, Oak Lawn Community High School recently dedicated the new athletic field as Napleton Field.

It was an exciting night for Oak Lawn and for the football team.  Through an intergovernmental agreement with the Village of Oak Lawn and Oak Lawn Community High School, Edward Napleton of Napleton Honda committed $1 million to have the athletic field renovated in exchange for a small piece of land adjacent to the school.  As a result, the Spartans completely renovated the field by installing FieldTurf, which is a synthetic playing surface, and installed a new track. After such a generous gift from Napleton, OLCHS decided to name the field in his honor.
Edward Napleton was born in 1951 in Evergreen Park. He is the eldest son of Betty and the Late Francis Napleton's eight children, who all grew up on the South Side of Chicago. He attended St. Walters School, Brother Rice High School (Class of 1969) and followed that with a degree from Loyola University in Chicago in 1973.  He is a third-generation family business operator. In 1931, Edward Napleton, Ed's grandfather, opened up a small DeSoto dealership on the South Side of Chicago.